CHARLY ALBERTI, ONE OF THE 100 MOST INFLUENTIAL LATINOS, COMMITTED TO CLIMATE ACTION
THE SACHAMAMA ORGANIZATION, BASED IN MIAMI FLORIDA, SELECTED ONCE AGAIN THE FOUNDER AND DIRECTOR OF R21, CHARLY ALBERTI, AS ONE OF THE 100 MOST INFLUENTIAL AND COMMITTED LATIN AMERICANS WITH CLIMATE ACTION.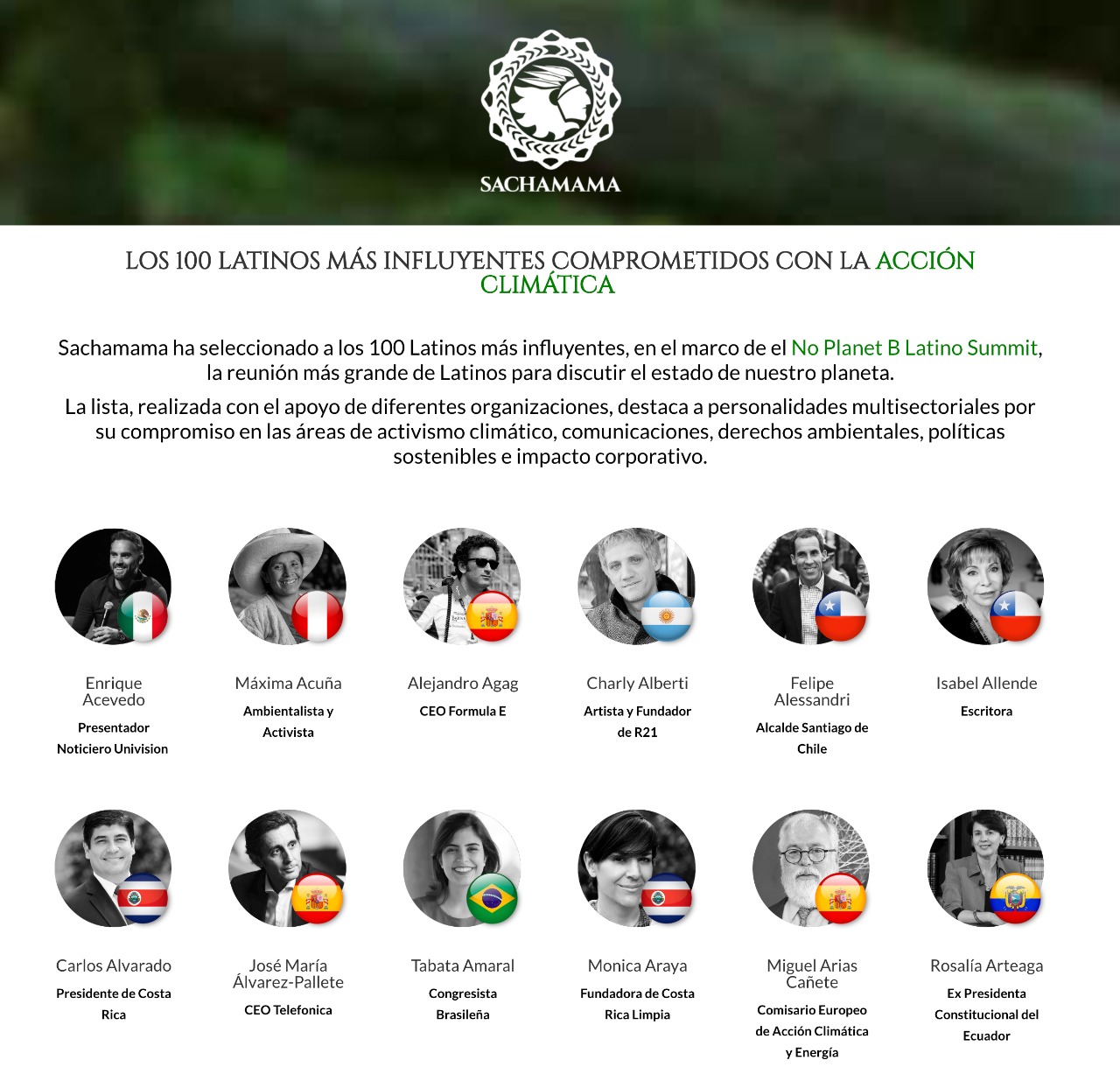 The recognition was given within the framework of the No Planet B Latino Summit, the largest meeting in the region that discusses the state of the planet. Sachamama's list was made with the support of different organizations and highlighted multisectoral personalities for their commitment in different areas: climate activism, communications, environmental rights, sustainable policies, and corporate impact.

The 100 most influential Latinos in climate action in Latin America were selected by Sachamama in 2019 and 2020. Both times Charly Alberti was part of them. Also featured were António Guterres, General Secretary of the United Nations; Eric Garcetti, Mayor of Los Angeles; Joaquin Phoenix, actor and activist; and Carlos Alvarado, president of Costa Rica, among others.
COUNTRIES RATIFY THE
PARIS AGREEMENT
APRIL, THE 21ST. EARTH DAY. IN NEW YORK 195 COUNTRIES SIGNED THE AGREEMENT CONSENSUSED AT COP 21 IN PARIS IN WHICH THEY COMMIT TO WORK TO STOP CLIMATE CHANGE.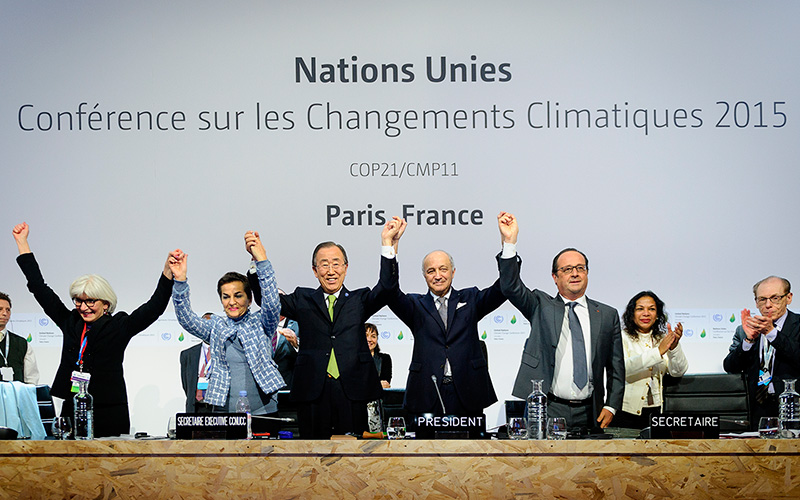 The year 2015 was the warmest in history, and the three months of 2016 continue to position themselves first in the ranking. The trend shows that this does not stop and if we do not do something, the world as we know it we will only see it in the movies. Extreme events such as the floods in several provinces of Argentina, or the tornado in the Uruguayan city of Dolores, confirm that the climate is changing and it is doing so at a faster rate than science predicted.

The 195 countries that signed the Paris Agreement pledged to implement actions to mitigate greenhouse gas (GHG) emissions and adapt to the impacts of climate change. The objective is to contain the increase in the global temperature of the planet to levels below 2 ° C and to make efforts to limit the increase in temperatures to 1.5 ° C degrees compared to pre-industrial levels. Thus, by 2050, GHG emissions from human activities should be fully captured by natural or technological means.

The Agreement proposes clear rules for a transition to a low-carbon economy. Some of the priority areas of work of the signatory countries will be renewable energy, sustainable mobility, agroecology, waste management, recycling and reuse, water and energy conservation, and clean technologies. In addition, the creation of protected areas that allow to conserve ecosystems and preserve habitats and species will be taken into account, as well as the carrying out of infrastructure works to contain floods or remedy the effects of climatic disasters or sea level rise.

As part of this Agreement, most of the countries undertook to reduce their emissions by defined percentages according to their possibilities of implementing mitigation actions and allowing sustainable development. These percentages will be reviewed and redefined every five years. What is interesting about this Agreement, and what differentiates it from the Copenhagen Agreement, is that it is binding, that is, it has legal effects on the signatory countries, despite the fact that no specific sanctions are included. Likewise, the countries undertook to produce periodic reports on the actions taken to reduce emissions, which to some extent encourages them to comply with their commitments.

Although no figures were agreed, the Agreement commits developed countries to continue offering financial support to developing countries to help them reduce their emissions and adapt to the effects of climate change. These funds will be implemented from 2020 and should reach a minimum of 100 billion dollars, a figure that will be updated in 2025.

Now, the next step is for the Agreement to be ratified next year by 55 countries, through their respective parliaments, which represent at least 55% of global greenhouse gas emissions.

The signing of this Agreement entails the confirmation by the international community that climate change is the greatest threat we face at the global level and that we must make efforts to stop it and remedy its effects. The signatory countries pledged to reduce their emissions, which in some cases means postponing development goals. Many of them postponed very ambitious goals and this must be interpreted as a sign of understanding of the seriousness of the situation.

At the same time, the project constitutes an important opportunity for research, innovation and development. New technologies that allow reducing the use of fossil fuels to generate energy, for water management, for the improvement and efficiency of industrial processes, as well as the generation of green businesses, new market conditions and competitiveness, will produce a radical change in The humanity. This will allow us to migrate towards a new low-carbon economy and will propose new social paradigms.

In our country, the signing of the Paris Agreement has already had interesting repercussions. The government has already ordered the creation of an Interministerial Cabinet for Climate Change that will allow the articulation of actions between ministries and jurisdictions, academia and civil society to be able to face the reduction commitments agreed in Paris.

Patricia himschoot R21 Director of Scientific Affairs
BALANCE DE ACCIONES Y PALABRAS DE NUESTRO FUNDADOR
SE TERMINA EL 2015, UN AÑO DE DECISIONES HISTÓRICAS
Hace pocos días, los presidentes y representantes de todos los países del mundo fijaron en la COP de París un objetivo titulado "cero emisiones netas": un equilibrio entre lo que liberamos en la atmósfera y lo que se absorbe naturalmente. Esta es la plataforma legal que necesitamos para realizar el sueño de conseguir un futuro seguro para las generaciones venideras.

Muchos creían y apostaban a que el proceso de la conferencia del clima resultaría un fracaso. Los dirigentes nos decían una y otra vez que a la gente "no le importa el cambio climático". Pero sabíamos que se equivocaban porque día a día íbamos recibiendo mayor respuesta a nuestros mensajes y acciones. Cada vez más personas comprenden que podemos revertir el tremendo desastre ambiental que estamos causando en el planeta y pensar en un futuro diferente.

Lo alcanzado es beneficioso para Latinoamérica porque proveerá de recursos para la protección de nuestros ecosistemas. Gran parte de los más de 600 millones de latinos residen en zonas o dependen de sectores económicos como la agricultura, la pesca y el turismo, en donde son altamente vulnerables al Cambio Ambiental Global.

Vamos por buen camino, un camino que hasta hace poco era impensado para muchos, pero aún falta por recorrer y eso requiere que cada día seamos más los que estamos comprometidos con esta causa.

Por eso, a días de terminar el año y como es costumbre, quiero compartir con ustedes parte del trabajo realizado durante este 2015 que sin dudas fue de gran importancia para el mundo y para R21.
RECOGNITION IN CALIFORNIA, UNITED STATES
The beginning of 2015 would mark what was one of the busiest years for R21. In the city of Sacramento and from Senator Kevin de León, President pro-tempore of the California State Senate, I had the honor of receiving recognition for the work done with R21 throughout the continent.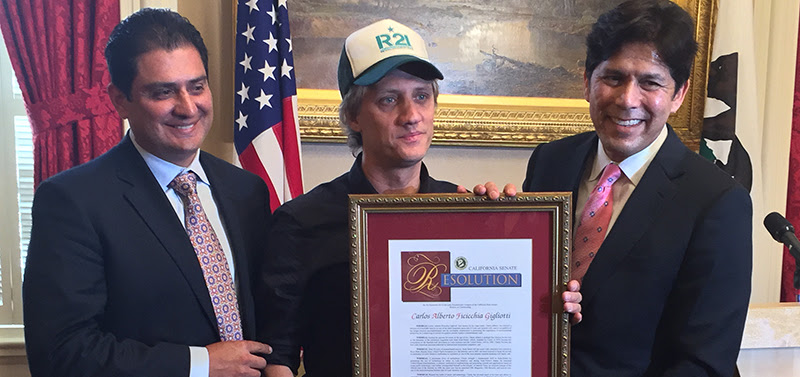 LOLLAPALOOZA CHILE - ARGENTINA
This year we participated in Lollapalooza again. In Chile, the 2015 edition was the one with the highest number of environmental actions, and it was possible to achieve that almost 100% of the festival was of zero environmental impact. In the Argentine edition, we were also present with our messages on the Festival's communication systems and screens.

R21 IN CENTRAL PARK - NEW YORK
The SummerStage in Central Park in New York was the setting for an impressive conference for a large audience mainly of Latino origin. This happened in the framework of the prestigious Latin Alternative Music Conference.

APPOINTMENT OF UNITED NATIONS
In July, the highest representative of the United Nations in Argentina, Dr. Rene Mauricio Valdes, appointed me a member of the National Steering Committee of the PPD, a program of the Global Environment Facility under the orbit of UNDP.

MEETING WITH POPE FRANCIS.

R21 PRESENT IN EL COSQUÍN ROCK
This year, for the first time, we participated with our messages in one of the most important rock festivals in Argentina. Córdoba is a province that in recent years has been strongly affected by Climate Change and where R21's message was very well received.

YOLANDA ORTIZ, HONORARY MEMBER OF R21
In May we had the honor of appointing Yolanda Ortiz as an Honorary Member of R21 for her outstanding work in favor of the environment. Yolanda was the first Secretary of Natural Resources and Human Environment of Argentina, appointed by President Juan Domingo Perón in 1975, and she was also the first woman to hold that position in Latin America

JUNE 5 - ENVIRONMENTAL OATH
Year after year, more places join this initiative. On this occasion, Ushuaia was also added, the southernmost city in the world. With an emotional ceremony, students, authorities, and members of society committed to protecting the environment. In addition, as in previous years, thousands of people joined from different parts of the world, sharing their photos on social media.

We joined the civil association ALPI, one of the most prestigious institutions in Argentina, in a project that will allow them to raise funds through the collection of used oil and its subsequent conversion to biofuel.

UNILEVER CONFERENCES - ARGENTINA - MEXICO
Together with Unilever and its leader Paul Polman, one of the world leaders in sustainable development, this year we started a project aimed at raising awareness among company personnel throughout the continent. The plan also includes work with the different distribution channels and suppliers. This gave R21 the possibility to reach sectors of society that are more difficult to access.

CONFERENCE IN THE MALL - CHILE
Once again we defied the rules and went to raise awareness in the least expected place. Together with the people of Mall Plaza de Chile, we held a conference and a call for attention to hyper-consumerism and the importance of sustainable development in the Mall Plaza Oeste

The prestigious CILSA Foundation gave me an award for the solidarity work and the work done with R21 in the field of environmental education.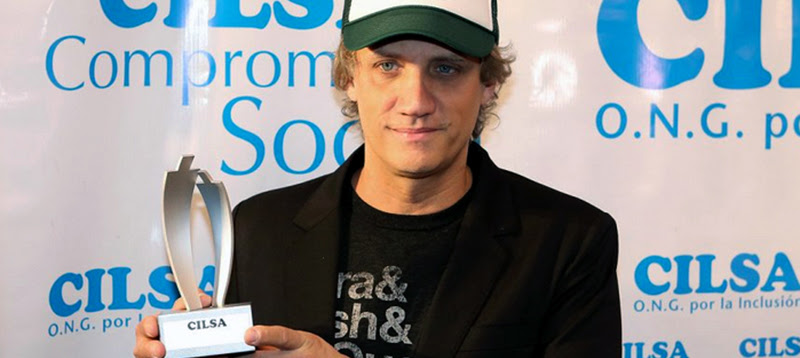 R21 IN UNIVERSITIES - ARGENTINA
This year we take our message to the Universities of Morón and San Andrés in Buenos Aires, and the University Siglo 21 of the Province of Córdoba.

With more than 60 million downloads, Trivia Crack became the game with the highest number of downloads in Latin America in 2014. In 2015 and with the help of its creator Maximo Cavazzani, R21 entered the world of eduTainment and now, people will be able to learn about Global Environmental Change, and its causes, consequences, and solutions, through sustainable development playing the exclusive R21 channel.

CONFERENCE R21 - POSADAS - MISSIONS
The province of Misiones is one of the places in Argentina where the population feels more empathy with environmental problems. Before an attentive crowd, we held an emotional conference of great connection with an audience that enjoyed the moment and appreciated our message

COP21 - CALL TO ACTION FROM BUENOS AIRES
The cancellation of events outside the COP21 negotiation forced many to not be able to travel to Paris. With Noah Mamet, United States Ambassador to Argentina as host, and together with diplomatic representatives from various countries, environmentalists, and the general public, we accompanied the negotiations that were taking place at COP21. At the same time, the ambassador presented the new solar panel system for the embassy.

Nos quedaron cientos de compromisos pendientes y lugares por visitar aún, pero sentimos que este fue un gran año para R21, ya que logramos expandir nuestro mensaje y consolidar la relación con diferentes comunidades e instituciones. Trabajamos con pasión y seriedad, pero por sobre todo, logramos llegar a millones de personas en todo el continente.

No quiero despedirme sin antes recordar al Dr Osvaldo Canziani quien sin duda fue unos de los grandes científicos en materia ambiental que tuvo el mundo y con quien tuvimos el honor de contar como miembro del board de R21.

Desde ya, mi agradecimiento a todos aquellos que día a día nos transmiten su interés, cariño y ganas de colaborar con este magnífico proyecto.

Les deseo un 2016 lleno de paz y felicidad.

Charly Alberti.

Fundador - Presidente

R21 - Latinoamerica Sustentable
R21 JOINS THE NEW VERSION OF THE SUCCESSFUL GAME PREGUNTADOS .
Charly Alberti announced today the collaboration between R21, the organization of which he is founder, and the company Etermax, responsible for Trivia Crack and its new version of Trivia Crack Kingdoms.

Trivia Crack, launched in October 2013, became one of the most successful mobile games in history by breaking the 170 million player barrier worldwide and receiving multiple international awards.

With Trivia Crack Kingdoms, available from October 15, 2015, the company changes its mechanics: users will be able to play trivia channels about specific interests.

"With this alliance, R21 will increase its education and awareness work at an international level, since while people play they will be able to learn very basic but very important questions about Global Environmental Change and its solution through sustainable development", explained Alberti .

R21 developed the questions and answers of the topics related to sustainability and the environment. The foundation will be the exclusive protagonist of the channel, which will allow us to learn by playing about Global Environmental Change and the solutions that each of us can contribute to the problem.

Preguntados, lanzado en Octubre de 2013, se convirtió en uno de los juegos móviles más exitosos de la historia al romper la barrera de los 170 millones de jugadores en todo el mundo y recibir múltiples premios internacionales.

Con Reinos Preguntados, disponible a partir del 15 de Octubre de 2015, la empresa cambia su mecánica: los usuarios podrán jugar en canales de trivia sobre intereses específicos.

"Con esta alianza, R21 incrementará su trabajo de educación y concientización a nivel internacional, ya que la gente mientras juega va a poder aprender cuestiones muy básicas pero muy importantes sobre el Cambio Ambiental Global y su solución a través del desarrollo sustentable", explicó Alberti.

R21 desarrolló las preguntas y respuestas de las temáticas relacionadas a sustentabilidad y medioambiente. La fundación será protagonista exclusiva del canal, que permitirá aprender jugando sobre el Cambio Ambiental Global y las soluciones que cada uno de nosotros puede aportar al problema.
R21 fue fundada por Charly Alberti tras comprender la profundidad de la crisis climática y los desafíos y oportunidades que ésta presenta para Latinoamérica. El reconocido músico decidió lanzar su propia fundación para difundir el Cambio Ambiental Global, aprovechando su capacidad para alcanzar a millones de personas. La organización se propone contribuir al desarrollo sustentable del continente a partir de educación sobre la crisis y sobre las acciones de mitigación y adaptación que prueban que es posible construir una Latinoamérica que crece, revaloriza y preserva sus recursos naturales.
Etermax is an Argentine company that has been developing mobile games independently since 2009. Among other projects, the company created popular games that include Apalabrados, Mezcladitos, FC Barcelona Trivia Fans, Real Madrid Trivia Fans and their most recent hit, Trivia, number one in more than 36 countries. With more than 170 million users, trivia became one of the most downloaded mobile games in the world. The award-winning mobile app was included in the "Best of 2014" list on both the Apple iOS App Store and Google Play. Additionally, Google recently published a case study on the success of the Trivia Crack application and its use of the AdMob tool on its Inside AdMob site.

CHARLY ALBERTI APPOINTS YOLANDA ORTIZ AS HONORARY MEMBER OF HIS R21 FOUNDATION
AN ENVIRONMENTAL MESSAGE TO THE PEOPLES AND GOVERNMENTS OF THE WORLD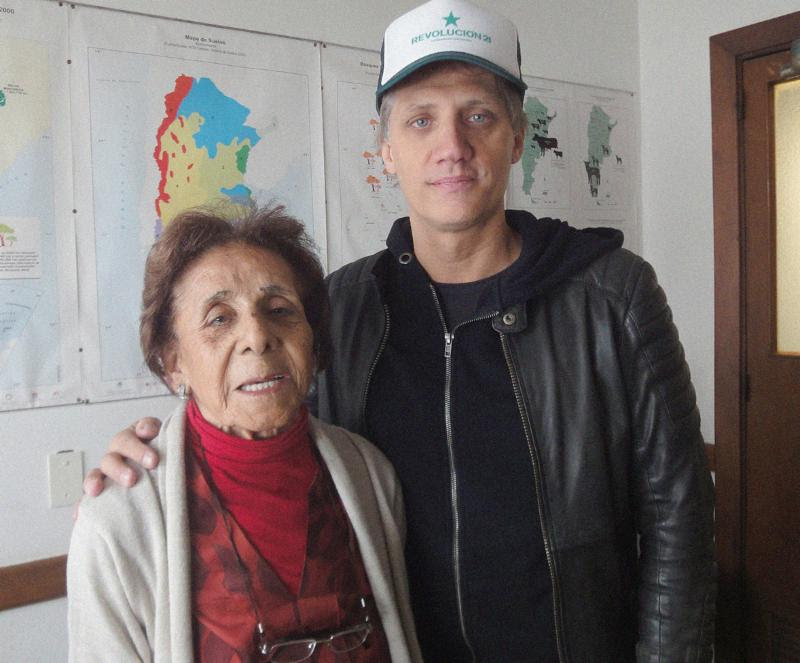 R21 - Sustainable Latin America, the foundation led by Charly Alberti, has decided to appoint Yolanda Ortiz as an Honorary Member for her outstanding work in favor of the environment.

Yolanda Ortiz was the first Secretary of Natural Resources and Human Environment of Argentina. She was appointed to that position by President Juan Domingo Perón in 1975, and also became the first woman to hold that position in Latin America.

Convinced of the "Environmental Message to the Peoples and Governments of the World", which Perón had launched from Madrid in 1972, Ortiz stood out for incorporating the environmental perspective in the industrial and production sectors, among other successful tasks.

The "Honorary Member" space in R21 will be reserved for personalities who permanently collaborate with the Foundation in different ways and from different areas of action.

Before this recognition, Yolanda Ortiz responded: "I thank Charly and R21 for having honored me with this invitation to participate in this project that reaches the multitudes of Latin America. They have understood that going from the Ego-citizen to the Eco-citizen is a hard road that you only walk with love and justice. This is essential to improve our relationship with nature, since you cannot love or defend what you do not know. "

Charly Alberti, for his part, said: "For me it is very exciting to generate this recognition of Yolanda for her work and career. She is an exceptional person for whom we feel deep respect and admiration. This is a way of thanking her for the invaluable and unconditional support that he gives us from day one. "
THE PRESIDENT OF THE CALIFORNIA SENATE RECOGNIZED CHARLY ALBERTI, FOUNDER OF R21, FOR HIS FIGHT AGAINST CLIMATE CHANGE
SPREAD THE GLOBAL ENVIRONMENTAL CRISIS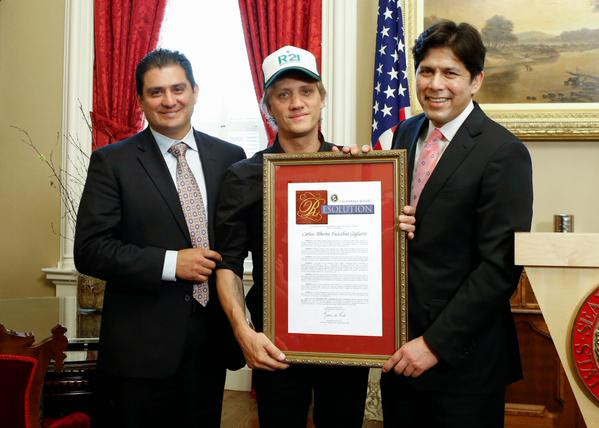 Sacramento, California, United States

The President Pro Tempore of the Senate, Kevin de León, recognized Charly Alberti for his fight against climate change and his dissemination of the global environmental crisis. The activist is recognized worldwide for his foundation R21 (Reevolución21) and for being a member of the legendary Argentine rock group Soda Stereo.

Senator De León delivered the proclamation to Alberti underlining the commitment of the musician leader, now an environmentalist, to improve human life. Its foundation seeks to spread the global environmental crisis through education and awareness, and contribute to the sustainable development of Latin America. R21 dreams of a continent that develops that livelihood, identifying the problems of climate change and its devastating consequences, generated by humans.

Pro Tempore President Kevin de León stated, "We are doing everything we can in California to counter the alarmingly and dangerously high rate of carbon and other types of pollutants that our children breathe into their lungs. Today, the California Senate honored the work of Charly Alberti, who is inspiring a new generation of activists to be aware of the protection of the earth. He carries the message of all of us who consider these issues a high priority throughout the continent of the Americas. "

Charly Alberti, for his part, commented: "This is something very important and exciting for me, since California is the place in the world where they are most advanced with legislation and behavior to bring development towards a sustainable model. These are those things that are not expected, and serve to corroborate that one is on the right track and make you want to continue working ".
A YEAR OF SUCCESSES AND EMOTIONS
A few days after the end of 2014, I want to share with you all a kind of personal balance of what the last 12 months have been.

Undoubtedly, it was a year of strong emotional contrasts, of deep losses, but also of the revalidation of the course, of what has been done and of great expectations for what is to come.

Scientists claimed that 2014 could be the hottest year in history. From the UN, they alerted us to the extinction of about 150 animal species a day, which was considered the greatest loss since the disappearance of the dinosaurs.

A year that leaves us with a planet that we are pushing towards its limits, threatening our very subsistence. But it also gives us encouraging signs that we can reverse this crisis through the summation of the wills of the peoples and world leaders, who understand all that is at stake.

Personally, 2014 brought strong emotions with situations that moved me to the depths, and that led me to reflect and confirm future work, understanding that the best way to honor the past is by projecting a possible future for future generations . That is why I want to share with you the most relevant facts of what was undoubtedly a year full of achievements and success for R21.
LOS CABOS GREEN FEST / MX
March 2014 o: p >
We began the year by participating with a conference at Los Cabos Green Fest, the Mexican festival where part of the electrical energy needed during the expo was originated by the participants themselves through bicycles.

LOLLAPALOOZA BUENOS AIRES
May 2014
We participated in a non-face-to-face way in Lollapalooza Buenos Aires with videos on the Festival screens and we were part of Rock and Recycle. An action that will be repeated in the following editions of the festival internationally. for

June 2014
On June 5, International Environment Day, we share the Environmental Oath with the world. The repercussion obtained in social networks and in the media was really exciting, reaching countless cities and countries around the world. for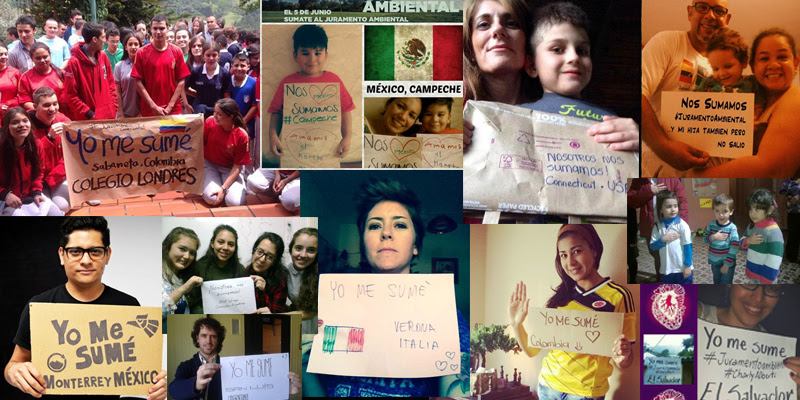 July 2014
In the middle of the year we were present at the Mall Plaza campaign in Chile, where we were able to reach millions of people with our message in order to raise awareness about the importance of reducing the use of plastic bags and encourage recycling actions. for

SUSTAINABLE CONFERENCE
CALI, COLOMBIA
August 2014
In August, in what was our first visit to Colombia, we were together with Paul Polman, CEO of Unilever and one of the world leaders in Sustainability. At the Javeriana University of Cali, we held a joint talk and demonstrated to those present that a sustainable future is possible.

PARTNERSHIP WITH NRDC.ORG
November 2014
In November, we made a very important alliance with the NRDC (Natural Resource Defense Council) of the United States in order to strengthen efforts so that our message reaches the Latino public living in that country. This alliance will make it possible to expand our objective to new audiences, generating more force and more impact

December 2014
At the end of the year we participated in the COP 20 held in Lima, Peru, where we were able to bring our voice to world leaders such as former US Vice President and Nobel Peace Prize winner Al Gore, United Nations Secretary Ban Ki-Moon, and President of the Senate of the State of California Kevin de León, among other personalities.
COP20 - ONU - LIMA - PERU
December 2014
Also in December, and within the framework of COP 20, we gave a conference at the Pontifical Catholic University of Peru, where we convened a large number of students and the general public to speak about the challenge posed by Global Environmental Change and the task that each one can carry out personally to help solve it.

December 2014
In 2014 we were able to reach millions of people across the continent, but this is just beginning. What is coming is not easy, but it is not impossible either: everything depends on us, on our understanding that the power of change is in our hands and that we can only achieve it if we all work together. The time has come to become heroes of our time, to change the history of the development of our peoples. And we can do it: each one from his place, with small actions, motivating and inspiring the rest. We wish you a 2015 full of peace and happiness, and that you have us as protagonists of change,

Thank you for being part of this reevolution.

Charly Alberti
CONFERENCE OF CHARLY ALBERTI IN LIMA.
"REVOLUTION 21 FOR A SUSTAINABLE LATIN AMERICA"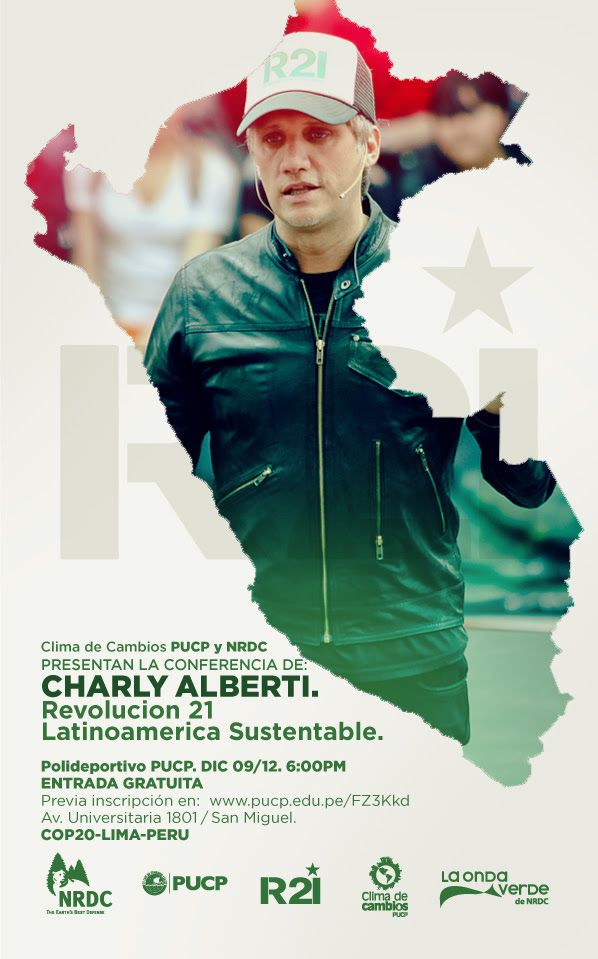 Charly Alberti arrives in Peru with his R21 foundation to offer a talk with the purpose of raising awareness about the global environmental crisis and exploring its causes, consequences and solutions.

The former member of Soda Stereo has been dedicated for years to promoting caring for the environment throughout the entire continent.

This time, within the framework of COP 20, he visits Peru for a free meeting at the PUCP Sports Center that will take place on December 9 at 6:00 p.m.

Admission will be free with prior registration. Place: PUCP Sports Center Date: Tuesday, December 9

Time: 6:00 p.m. Check-in time for location: 5:30 p.m. through the main door

Previous registration: www.pucp.edu.pe/FZ3Kkd .
DAY OF THE ENVIRONMENTAL OATH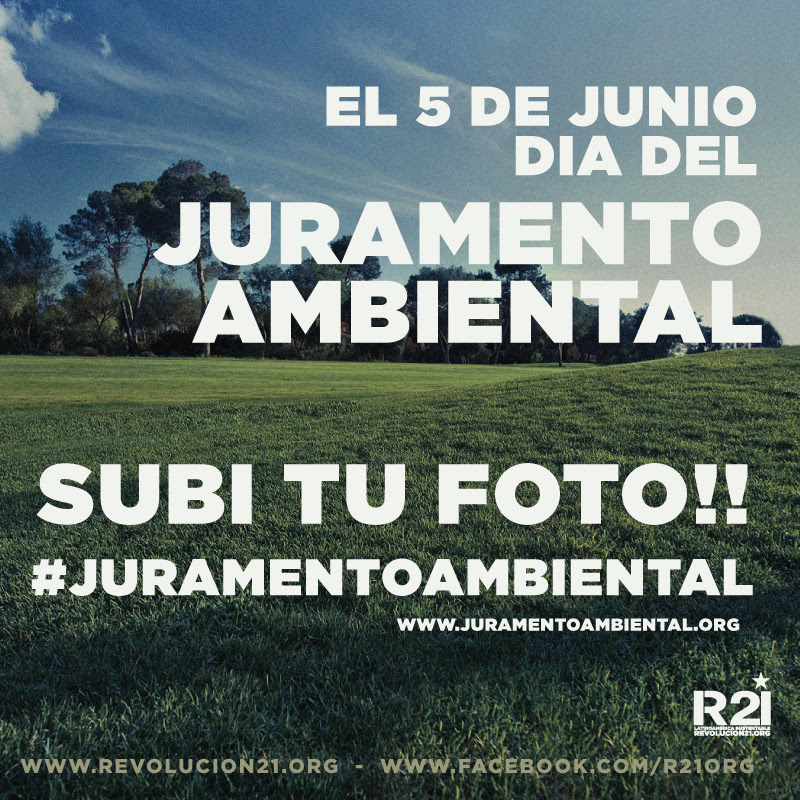 ON THURSDAY, JUNE 5, JOIN AND COMMIT TO THE FUTURE.
Make the Environmental Oath or Commitment with your family, at work or with whoever you want.
If you know a teacher or professor, invite them to do it with their students.

The Environmental Oath or Commitment is the best way to crown the day of the environment. It is to ratify that we want to leave to the next generations a future with the same development opportunities and resources that we enjoy.

Doing so speaks of thinking beyond today, of thinking as a society and not just as an individual. And it is necessary to become aware that we all have the capacity and intelligence to reverse the negative impact that we have been generating every day on the planet.

The Environmental Oath does not belong to R21, it belongs to all of us. The important thing is to take that day to think and reflect on what the future we want is.

To join this initiative, share a photo showing a sign that says "I joined" + name of your city + name of your country, and using in your social networks the hashtag

#EnvironmentalOath.